As representatives of the WAVES project, partners from both St George's, University of London and Bayer Plc participated in the 7th University Business Forum (6–7 April 2017) in Brussels.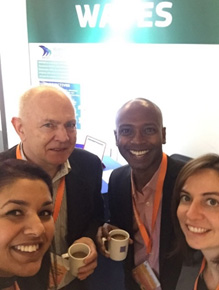 Representatives from SGUL and Bayer at the WAVES exhibition stand
The representatives engaged with the community by showcasing the project aims, objectives, outcomes, future developments and the WAVES network at the dedicated WAVES exhibition stand. In addition, Chara Balasubramaniam from Bayer presented the project as part of a Knowledge Alliances panel presentations and discussion. Only 5 of the 14 funded projects under the Knowledge Alliance Programme were invited to present their projects. The presentation and participation during the networking sessions generated large interest among the Higher Education Institute and Business community in the use of Virtual Scenarios.
The Forum organised by the European Commission, brought together 400 high-level representatives from higher education institutions, large companies, SMEs, a range of European organisations and associations, as well as national, regional and local authorities from Europe and beyond.
The event was a unique opportunity to present, share and discuss first results and demonstrate the specific added value the Knowledge Alliance brings to all partner organisations and beyond.
During the two days, several talks and workshops took place to discuss how to improve collaboration between business and universities
More information about the Forum and other EC events can be found here.
The presentations are now available online, and can be accessed here, the video footage of the full event can be found here.
3. 5. 2017